Yesterday was this spring's version of the Walker Homestead Antique Show in Brookfield, Massachusetts. It's only a few miles from my home but, believe it or not, this was my first visit! Oh, boy! What a nice show.
I had pre-arranged with Pied Potter Hamelin, who was vending there, to pick up a custom order he'd made for me. It is a yarn holder which was fashioned after an antique redware string holder in his collection. I just loved the idea of a flat-bottomed yarn bowl, which struck me as being ever so much stabler than a regular yarn bowl, so Rick obliged by making it larger with a larger opening to accommodate an average size ball of yarn. BTW, I usually like to wind traditional cannon balls instead of the yarn cakes you get with modern "ball winders."
Rick also made my holder in yellow slip with green decoration called "spangles." Cool. I already had a soap dispenser in this color and similar pattern. Oh, and now I also have two redware plates in the same color and decoration. No pics of those, though. Here is my very wonderful yarn holder.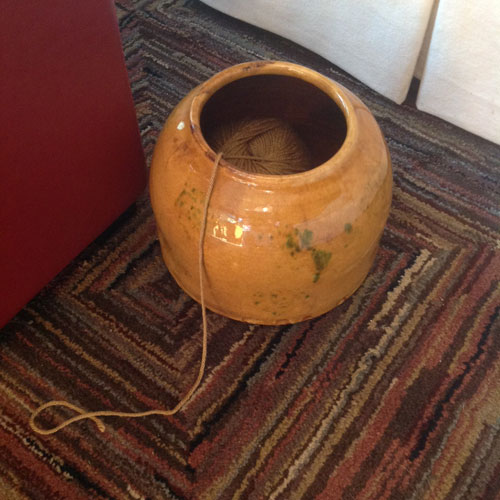 I also was lucky enough to find another fiber-related gem, but I'll post about that tomorrow.